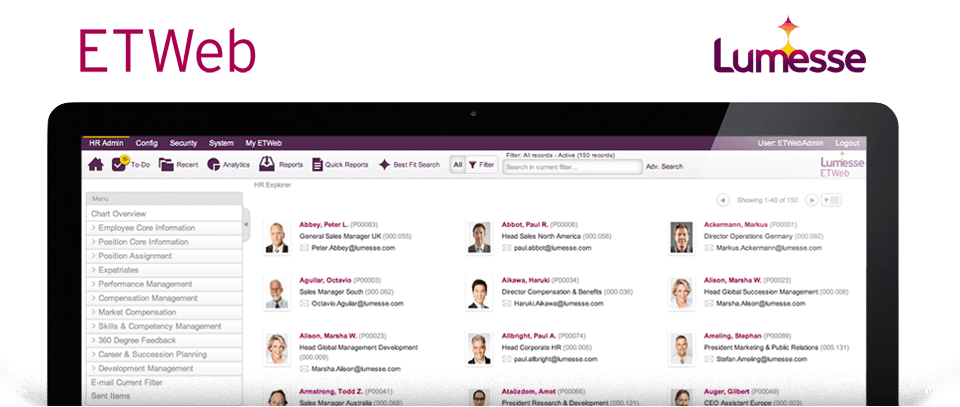 ETWeb – 25 years of experience in HR management automation with 2000 implementations all over the world
Lumesse ETWeb is a solution for automating the full range of HR processes. Based on up-to-date web-technology, the system can be easily scaled and integrated with an existing IT-system in a company. It can be used as an independent solution or in conjunction with another ERP or HR IT system.
Lumesse ETWeb is a full-fledged work place not only for HR managers, but for other employees and managers. It allows for an increase in transparency of HR processes in your company.
Thanks to the high level of data security and maximum functionality, Lumesse ETWeb supports even the most specific HR processes of a modern company.
Functional Abilities of ETWeb
Basic information about employees and positions
The module "Basic information about employees and positions" is essential for work in all HR processes. Data about all employees and their positions can be integrated in ETWeb from all the HR applications used in the organization: core HR, organizational management, learning etc. ETWeb uses XML interface, which allows easy export of information to other databases/applications. A two-sided system of information exchange between applications guarantees that the HR management process will be based on full and actual data.
Performance Management
The ETWeb module «Performance Management» helps to align the work results of your employees with the strategic goals of your company. With the help of a personal service system ETWeb supports an interactive process of setting up and aligning goals, which could include not only an employee and his or her line manager, but also the functional manager, top-management, HR, etc. Levels of alignment are unlimited. When a manager sets up goals they can be cascaded to subordinate employees. This allows the manager to draw a tree of goals and see the relationship between them. Goals achievement evaluation can also be set-up step by step: first, a self-evaluation by the employee and then, a final evaluation by the manager.
Add to request
User friendly interface
In the new ETWeb 11 the interface design was completely revamped. It has become more user-friendly and is based on a usability principal.
Compensation Management
You will be able to visualize and manage various aspects of the employee compensation packages in your company. With ETWeb you can import salary data from the existing payroll system and plan compensation changes.
With the module «Performance Management» you will be able to connect the compensation system to the effectiveness of employees. You can calculate a premium based on a realistic assessment of employee performance.
If you follow the salary market, you can easily get salary surveys from various companies conducting these studies in order to view competitive market rates. As a result, this work will create sustainable principles for remuneration to ensure your company offers competitive salaries.
Add to request
Skills and Competency Management
With the module «Skills and Competency Management» you can build a complete catalog of competencies of the company, make a profile for each position, evaluate employees, and make a GAP-analysis: an analysis of the compliance of an employee within a position.
With a single click, the function «Search for the Most Suitable Individual» allows you to create a list of employees that are suitable for a position based on existing managerial and professional competencies. Put the right person at the right place at the right time and you get a performance increase without any additional investment. Select the person who best fits the position and you'll spend much less time and money on training and coaching.
Add to request
Career and Succession Planning
The «Career and Succession Planning» module allows you to manage employees' career aspirations and, plan their movements, and helps to make thoroughly researched HR decisions. It ties together all the steps of candidate selection, from defining position requirements to the comparative assessment of applicants based on these requirements.
With this module, when you make a decision to find a candidate for a key position, you can follow the wishes of the individual candidates as well as the recommendations of their leaders, and find the most suitable employee by using a special search tool. As a result, you can build a comprehensive list of potential candidates for the position.
Add to request
360 Degree Feedback
The ETWeb system module «360 Degree Feedback» is a comprehensive assessment tool that supports all phases of the feedback process: from the assignment and agreement of feedback participants, to the completion of questionnaires, collection and analysis of data, and the generation of a report indicating the strengths and weaknesses (areas requiring development) of the employees.
HR-managers can conduct an extensive and comprehensive analysis of the results at any time; for example, in order to make conclusions about the need for learning and development in specific areas or to monitor the development of managers.
Add to request
Learning Management
The module «Learning Management» allows you to build a comprehensive development plan for an employee based on his or her assessment and to enable different types of development activities, such as trainings, mentoring, coaching, temporary internships, and others. You can use a tool to plan the employee's development that allows you to find courses for particular competencies and create a more specific approach to educating the employee.
This is a complete workspace in which a T&D specialist can create a course catalog of the company, manage the lists of students, register participants, make decisions about certification, and monitor the level of learning satisfaction and success.
Add to request
Access to your ETWeb 11 will be possible from any location, regardless of the type of acquisition and installation
The system architecture of ETWeb is «thin client»: end users work through a web-browser (all popular browsers are supported: IE 6 +, FireFox 3 +, Opera10 + and WebKit 4 + (Safari, Chrome). Additional software installation is not required. DBMS: Microsoft SQL Server.
The cost of the ETWeb system depends on the quantity of modules and employees. The cost for a license for N employees includes N workplaces for employees, N workplaces for managers and 1%*N workplaces for HR-managers. Licenses can be purchased or rented (minimum for a year). There is a system of discounts depending on the number of modules.